Word Templates for Office Stationery
A typical set of stationery templates might include a letter, fax, memo, agenda, minutes and compliments slip.
Letter Template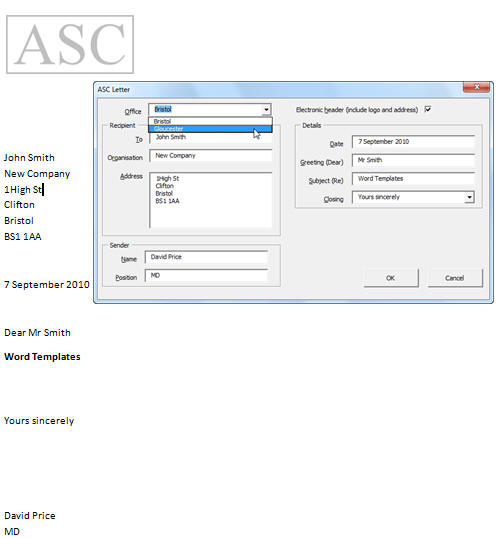 Startup Dialog
Office and Electronic Header
Select from a list of company offices and choose whether to print the company logo, address and footer for this office on the page. Useful if you want to create a PDF of the letter for emailing as an attachment or to print on to plain paper.
Recipient
Manually enter the contact details of the recipient or click an Outlook Contact button to access the Microsoft Outlook address book.
Sender
Store the name, postion and other contact details of the sender to use as the default for the next letter or stationery template.
Details
Default the date to the current date. Choose a closing (valediction) line.
Toolbar or Ribbon Customisation
Add a button to a custom toolbar or customise the ribbon.
Creating Word templates requires not only an intimate knowledge of Word but also the ability to programme in Visual Basic for Applications (VBA). Using our extensive experience, we could produce a template like the one above in less than one day. Even in a small company, the template would pay for itself very quickly.